Hundreds of Women.
Unlimited Possibilities.
2023 Meeting Dates
February 23, 2023
La Carretera
3630 N Belt Line Rd.
May 11, 2023
Settler's Table
129 N Collins Road
September 7, 2023
@ TBD

Our Mission
To  create  a  philanthropic  avenue  for  the  women  in  Sunnyvale  to  make  a  big  impact  in  our  community,  with  little  time  commitment.  To  bring  together  at  least  100  women  who  will  contribute  financially  over  several  times  per  year  to  local  non-profits  and  make  a  difference  in  Sunnyvale.
NEXT MEETING:
May 11, 2023
Settler's Table
129 N Collins Road
Social hour is 5:30-6:30pm
Meeting is 6:30-7:30pm
Thank you 100 WOS for raising $11,700 for Sleep in Heavenly Peace on 1.23.23!
A highlight from our first year:
$16,000 RAISED & DONATED
to The Sunnyvale PTA for a Sensory Room at the new Sunnyvale Intermediate School!
By the Numbers
Minimal time, maximum impact… Here's how we're getting it done.
0
women
$
0
Donated per Meeting
$
0
Immediate Impact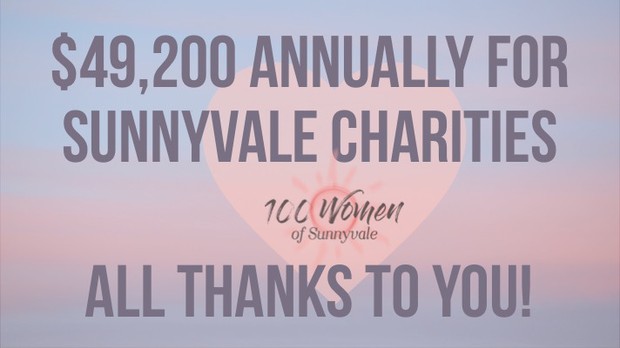 Learn About Becoming a Beneficiary


Our Story
100 Women of Sunnyvale is a group of women who are passionate about Sunnyvale. We saw how rapidly Sunnyvale is growing and recognized a need and opportunity to serve our community and to promote and facilitate non-profit growth. What better way to do this than through our community of strong, influential ladies!
Beginning in 2019, we will gather three times a year for a one-hour long meeting, where members will have a chance to hear from fellow members about three local charities and their specific and immediate needs. Present members will vote to select one charity, then each member (present and non-present) will write a $100 check to benefit that selected charity. This combined donation is intended to make a positive and meaningful change in the community we call home.
Community Voices
Join our community of strong, influential women who share a love and passion for Sunnyvale.